It's true. A steel Underground Storage Tank (UST) will eventually corrode and leak. If you encounter a UST that is over 15 years old there is a good chance that substantial corrosion has taken place. Corrosion of USTs cause over half of the leaks and spills encountered from USTs (refer to Sterling's March 1999 Newsletter for more information). Today's tanks normally come with 20 or 30 year warranties. So if you have a tank older then 25-30 years it should be replaced or tested on a periodic basis. Your oil tank is like any appliance or fixture in your home or business, it needs maintenance and eventually replacement. Just because the tank is out of site does not mean that it should be out of mind.
The above figures for a tank's life expectancy are guidelines. At Sterling, we have encountered tanks 50 years old that were not leaking and tanks that were 15 years old that were leaking! The life expectancy of a tank depends on several inter-related factors. In general, however, the construction of the tank (how thick it is and how well it was put together), the soil conditions, and how the tank was installed will determine the longevity of the tank.
As most people are aware of by now USTs can cause difficulty when dealing with a real estate transaction. These days buyers are increasingly concerned with the potential environmental liabilities that are involved with USTs. In most instances mortgage companies will not issue a mortgage and insurance companies will not issue a home owners policy until the tank is either properly decommissioned and/or tested. So if you have a property that has a UST you can expect to deal with the issue eventually. It is better to deal with this issue on your own terms, before the pressure of a real estate transaction is added to the equation.
A UST should also be properly taken care of if you are no longer using the tank, converting to gas or converting to an above ground oil tank.
Finally, make sure that the person you hire to work on your oil tank is licensed by the NJDEP (see Sterling's October 1998 Newsletter for more information), has experience, and has satisfied customers. Sterling Environmental is licensed by the NJDEP for testing, removal, installation, as a corrosion specialist, and as a subsurface evaluator (all of the classifications for which licenses are available). For additional information about our experience and to contact some of our many satisfied customers refer to our Qualifications & Experience section.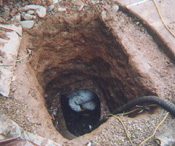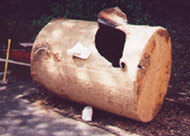 Sterling Environmental offers a full line of environmental services to meet your industrial, commercial and residential needs.