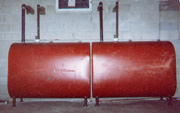 Two 275 Gal. basement AST's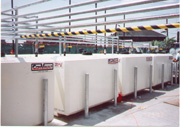 Concrete encased ASTs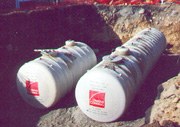 Sterling Environmental provides expert tank installation services ranging from basement tank installations to complete service stations. Some of you may be wondering, with all of the problems that can occur with USTs, why would you put a tank in the ground. Well, your right, in many circumstances it is better to install an Above-ground Storage Tank (AST). Containment dikes that will contain any spill from the tank are normally required by code and the tanks can be easily inspected and maintained. For homeowners who are considering removing their old oil tank an AST is often an ideal solution. Many people decide to convert to gas without even considering an AST. If your heating system is in good condition there is no reason to go through the expense of converting to gas when an AST can be installed in the basement, garage, or outside the house. There are, however, many instances where an AST is unfeasible or impossible.
Due to code requirements the cost of an AST for a gasoline application is often prohibitive. For larger installations the space requirements for an AST are frequently not available. But, if a UST is your only option don't worry. Today's USTs are completely different from those bare steel tanks that were installed years ago. Double walled tanks, fiberglass tanks, and corrosion protected steel tanks are just some of the options available. New tanks come with 20-30 year warranties and state of the art monitoring systems make leakage a non-issue. UST systems, when designed and installed properly can give the owner a safe, cost effective means of storing petroleum.
Sterling Environmental is certified by the NJDEP for the installation of tanks and our experienced field crews are all trained by the tank manufacturers themselves. Sterling Environmental has the expertise to tailor a tank system for your site specific needs, within your budget!
Phase I, II, III Site Investigations Potential environmental liabilities are affecting property transactions as never before. Recognizing areas of concern is crucial in any site investigation because if a liability is not recognized, you may end up dealing with it when you least expect it. Sterling Environmental has the experience to properly investigate your site while avoiding delays and recognize cost savings. Complete delineation of areas of concern along with proper remediation provides a turnkey program. In all Sterling provides buyers, sellers, and lending institutions with an unmatched level of security and comfort by assuring environmental quality of sites.
Sterling also provides licensed hazardous waste hauling and vacuum truck services. All of this makes Sterling Environmental your choice for a full service environmental contractor.
Sterling Environmental offers a full line of environmental services to meet your industrial, commercial and residential needs.